Your Local

Website Design Hammersmith

Company.

Our Hammersmith web design agency crafts stunning responsive websites for B2B & B2C brands. Enquire today for a free website consultation.

Get My Free Quote
Looking for The Best Hammersmith
Web Design company?
For a Hammersmith website that converts, contact us for a free quote.
At MagnifyLab, we design and develop high-converting websites for our clients. But because our Hammersmith web designers are passionate about your online success, we don't stop there. We also look after your complete digital presence with a wide range of supporting services, from hosting and maintenance to PPC and social advertising. 
If you have ambitious plans for your website, we are the Hammersmith digital marketing agency for you – regardless of whether you are a new or growing business.
Obsessed with quality and visitor experience, we make you look great online with a website sure to improve your client conversion rates. And whether you need a new website or want to make some improvements to your existing one, we'll make it happen. 
Got grand ambitions but not sure where to start? We'd be happy to provide a sounding board and expert advice if you fancy a chat before starting a new website project. 
Passionate about what we do, and keeping clients like you happy, at MagnifyLab, we'll help you to succeed online with an unrivalled combination of inspiring design, digital understanding, and perfect technical execution.
Contact us today and get ready to take your digital presence to the next level. Let's work together to create something amazing!
Website Design Services Hammersmith
A holistic range of expert web and digital marketing services for businesses based in and around Hammersmith. 
Responsive/Mobile-Friendly Web Design

WordPress Web Design 

Brochure Web Design 

E-Commerce Web Design 

User Experience (UX) Design

SEO, PPC & Social Media Advertising 

Website Hosting 

Website Support Services
Contact Us
Professional Services
Website Design Hammersmith
- Featured Work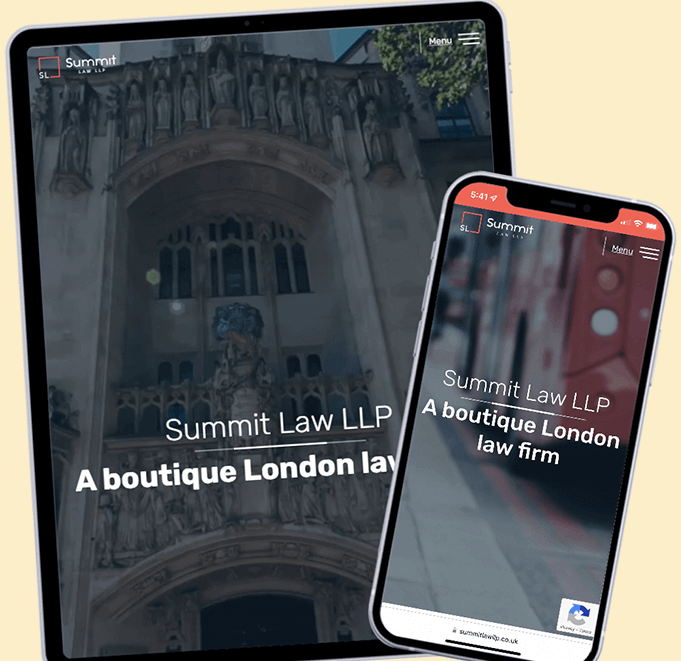 Summit Law
Website Design
A commercial law firm based in the heart of legal London.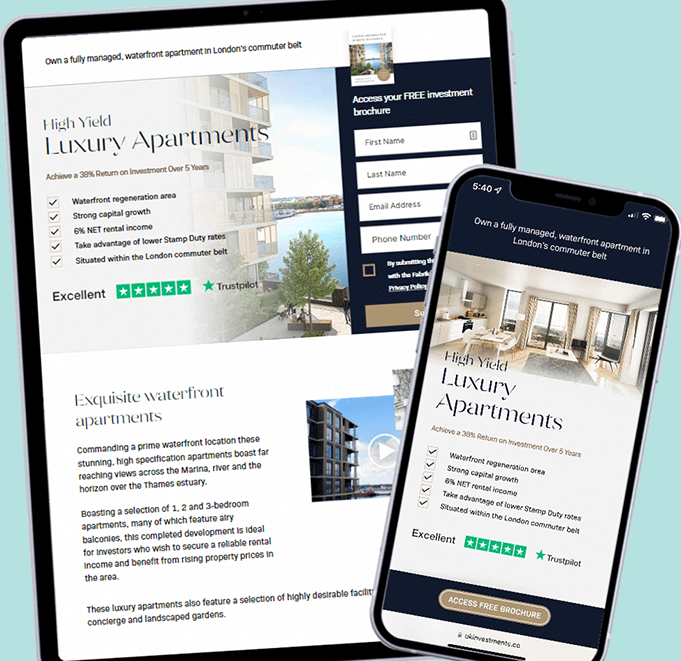 Fabrik Property Group
Landing Pages
Bespoke property landing pages with CRM integration.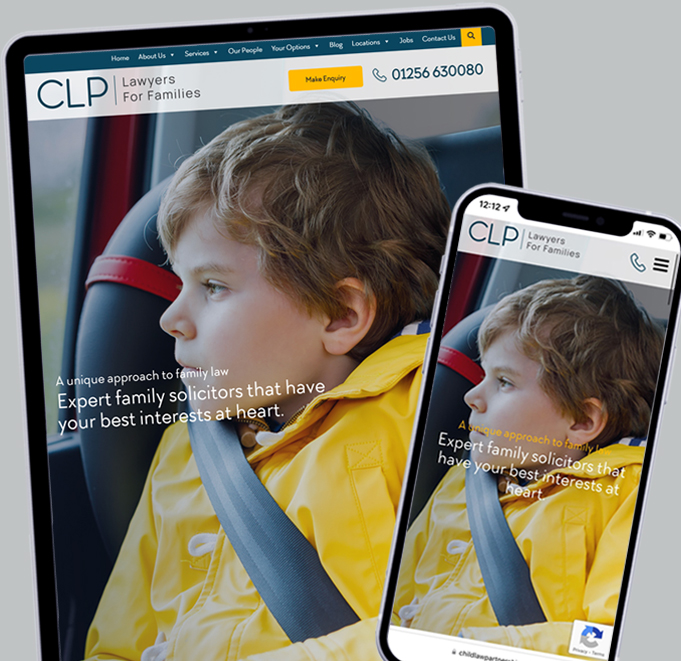 Child Law Partnership
Website Design
A modern website for a regional family law firm.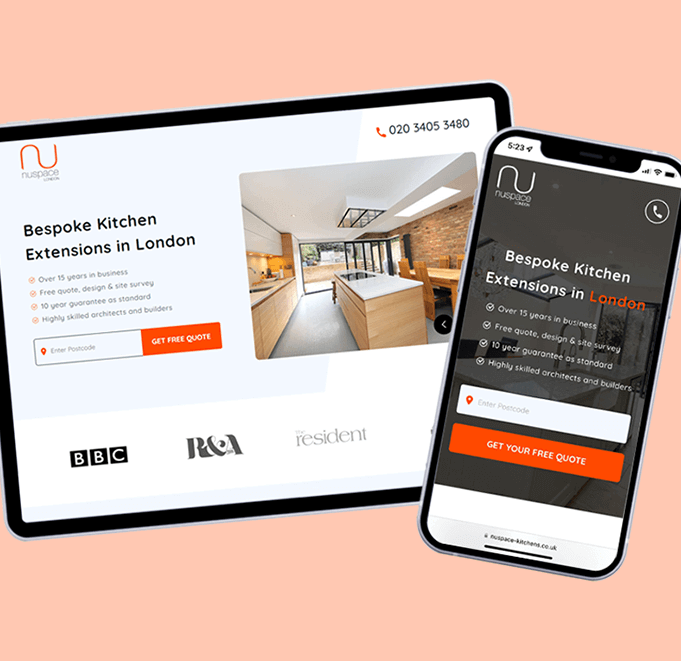 Nuspace Construction
Landing Pages
Bespoke PPC landing pages with multi-step form functionality.
Need a
Hammersmith Web Design

Agency for your project?

Taking ambitious brands to the next level – whatever the sector – if you want to unlock the potential in your business and boost your growth, get in touch with our experienced Hammersmith web design company today.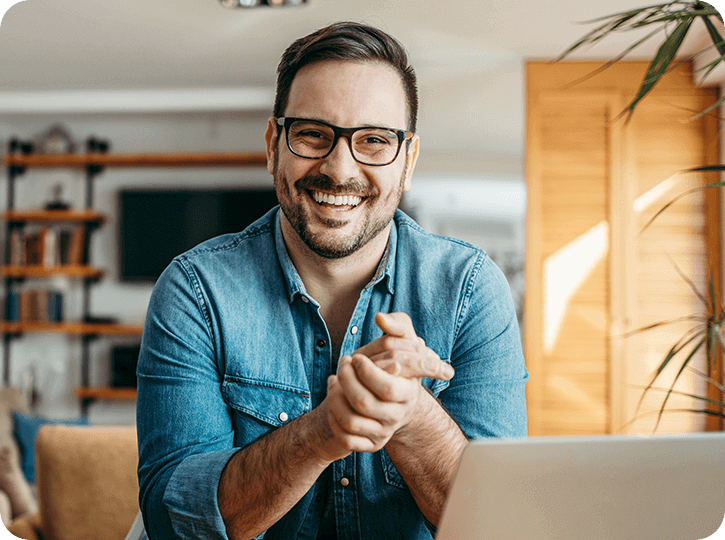 Established Agency
Our
Testimonials

We are delighted with the customer service and results from Google Campaigns run by MagnifyLab! They promptly respond to our requests and positively surprise us with ways of improving our campaign results. 6/5 stars!
Marta Krzemien
Marketing Manager, Steelo Ltd


Great company to work with and they have really helped us to grow our inbound enquiries. The guys at MagnifyLab have made themselves available on the phone even in the evenings and weeks which has been invaluable to us. Thanks MagnifyLab, highly recommended
Richard Yeo
Director, Thermofoam


MagnifyLab now manages all our PPC campaigns and much of our online presence. I have found them to be an outstanding company, dedicated to detail our revenues have significantly increased and our costs decreased.
Martin Benetar
Director, Charter A Group


We've enjoyed working with Ray and his team at Magnify Lab since day one. They have been brilliant with their knowledge and are extremely proactive which we love. Magnify Lab is definitely worth 5 stars for everything they have and are doing for us.
Sally
Adventures in Furniture

Website Design Hammersmith for Ambitious Brands
Introduction to
Hammersmith
Located in the London Borough of Hammersmith and Fulham in west London, this urban centre is a popular location for families, young professionals who want a quieter lifestyle, empty nesters, and retirees. Bordering Fulham, Chiswick, Shepherd's Bush and Kensington, Hammersmith certainly has plenty to offer. Not only is it a key transport hub, but it also provides lots of convenient amenities and green space.
Property in Hammersmith is undoubtedly in demand, with an average sale price of £927,059 over the last year (Rightmove, October 2022). And, while it might have once had a reputation for being a 'concrete jungle', this is no longer true. From beautiful new builds to mansion conversions, flats are popular in Hammersmith. And, of course, period homes are especially sought after, not least because many are within walking distance of some great local schools. Indeed, as Hammersmith is popular with families, it is no surprise that it has several excellent educational establishments, rated "outstanding" or "good" by Ofsted. 
Hammersmith also has plenty to do and enjoy. While not a party town, there are some great restaurants and bars, as well as lots of green space at Ravenscourt Park. With over 600 documented trees and a lake, this ample public space is well-used and much loved by residents. More green spaces can be enjoyed by the river. And, because Hammersmith is situated on the Thames, residents can benefit from that much-adored café culture on a warm afternoon. Hammersmith also has a plethora of sports and recreational activities, with numerous leisure centres, sports clubs, gyms, and facilities in the area. There are also numerous entertainment venues, including the renowned Hammersmith Apollo. And, of course, there are plenty of well-known brands and stores in Hammersmith for a bit of retail therapy.  
One of the best-connected districts in the capital, Hammersmith, in Zone 2, is served by three main Tube lines and a large bus station. And, despite being closed to traffic since August 2020, in 2021, Hammersmith Bridge partially reopened to cyclists and pedestrians – thus providing an excellent link to the south side of the river. Furthermore, because Hammersmith is outside the congestion charge zone, driving isn't a problem in the area.  
Today, Hammersmith is also an excellent location for businesses. A robust commercial and employment centre, the area is home to several multinational companies, including Disney and L'Oreal. And if you need an intelligent, creative, and effective website for your Hammersmith business, we can help.
What else does your business need to know about working with our Hammersmith web design agency? Read on to find out.
Costs for web design in Hammersmith
You will want to know how much you will pay when selecting a Hammersmith website design agency. And we'd be happy to discuss your web project and provide a no-obligation custom quotation. 
Unfortunately, we can only give you an idea of the costs after talking to you first. As we are sure you can appreciate, every web project is different, so prices can differ significantly from website to website. What we can tell you is that we offer unbeatable value for money. 
That doesn't mean we are the cheapest. Our Hammersmith website designers don't use budget templates because we do not believe they deliver results. Instead, when you work with us, we'll craft you a unique website tailored to your brand and designed to meet the needs of your business.
However, to give you a rough idea of the costs, our prices start from around £2,500. For this, you will get:
A website that is 100% bespoke 

A mobile-friendly website that will work across all devices and browsers 

A website developed to the highest standards of accessibility and usability 

A website designed to appeal to Google and the other leading search engines

A website that will be easy to maintain and update 

A website that won't break and require endless updating and fixes.
The above comes as standard with every MagnifyLab website we create. In addition, if you need a more complex build (e.g. one with many different page styles or complex functionality), we can do that too. Contact our team today to discuss your requirements. We'd be happy to provide a free quote with no obligation to proceed.
How long does it take to build a website? 
As well as establishing how much you will pay when selecting a Hammersmith website design agency, you will also need to know how long the web build will take. How soon will your site be live and delivering for your business? Here again, we'd be happy to provide a work schedule once we have discussed your web project in more depth.  
Before we can provide you with a timeline, we'll need to establish the size of your website and what functionality you need it to have. We'll also determine your design expectations and content needs, as well as other factors. To give you a rough idea of the timescale, our Hammersmith web designers usually take around 4-6 weeks to design, build, and test smaller websites, while more significant sites with more functionalities can take about 3-4 months to complete. 
Be wary of any Hammersmith web agency that promises a super-fast turnaround, as this could mean they will use a pre-designed, off-the-shelf template to build your website. In our experience, these templates often fail to inspire, convert, or even work long-term. So they can be a false economy. Committed to quality-website design, we might take a little bit longer, but we are proud to create sites that look great, are 100% bespoke, and work! 
Contact our team today to discuss your requirements. We'd be happy to provide an idea of timescales with no obligation to proceed. 
What type of Hammersmith companies can you help? 
Our Hammersmith website designers have experience across both B2B and B2C sectors. Some of the industries our clients operate in include: 
Financial services 

Wholesale and retail (including e-commerce) 

Professional services

Creative, media and digital 

Information and communication

Arts & recreation

Property 

Legal

Home improvement

And more. 
Working with companies of all sizes, covering many different sectors, you can find out more about what we do here.
Do you redesign existing websites?
Yes.  Our Hammersmith web designers build new websites AND take existing sites and make them better. Saving costs when a new site is not required, some of the specialist web services we provide include: 
Creating strategies to help sites convert more visitors into customers

Making websites responsive (so that they will work across mobile, tablet and desktop devices)  

Making sites easier to navigate (this can be particularly helpful where a website with lots of pages has become unwieldy over time) 

Creating new/improved website functionality 

Moving a site to WordPress (so you are not tied into using a specific web agency)

Making websites more secure (helping you meet your data protection requirements) 

Adding high-converting landing pages to support PPC and SEO activity 

Updating the design of a website (whether to reflect a change in brand or to bring a site up to date) 

Improving the accessibility of your current website.
Regularly making improvements to websites across Hammersmith, we always let you know if it would be cheaper and quicker to create something new. Contact our Hammersmith web design agency today to find out more about how best to achieve your marketing objectives. 
Will my new Hammersmith website design work on mobile and tablets? 
Absolutely! People visit websites using a range of different devices, so you must deliver a consistently flawless web experience. If you don't, your potential buyers will get frustrated, leave your website, and take their business elsewhere.
At our Hammersmith website design agency we make sure that all our sites do the following on every single device: 
Work the way you need them to 

Load quickly 

Navigate easily 

Make it easy for web visitors to 'sign-up' or otherwise convert 

Provide a fantastic user experience 

Appeal to Google

Flawlessly communicate your content. 
Can you convert my existing Hammersmith website into WordPress? 
Yes, we can. And we don't use budget, off-the-shelf templates to do so! Instead, when you appoint us as your Hammersmith web designers, we'll use the power of WordPress to create a 100% bespoke website custom-made to the needs of your business. 
Helping you migrate your existing website over to this incredibly clever platform, we ensure that your new WordPress site does everything you need. For example, we will make your WordPress website mobile-friendly, find out if you would benefit from any custom development, and improve the SEO performance of your WordPress website in the process. 
If you don't want to use WordPress for whatever reason, we are also experts in other leading web platforms such as Magento, WooCommerce, Joomla and Drupal.
Do you offer a payment schedule for Hammersmith websites? 
Yes, we take a 50% deposit before we start your website project, but the remaining balance is not due until the website is complete. 
Do you provide website maintenance and support? 
Yes, at our Hammersmith digital marketing agency, we provide a range of website maintenance and support services to ensure that our clients' sites keep working beautifully for years to come. Our services include:
Plugin updates

Backups

Security checks

Site edits

SEO improvements 

And more. 
We also provide PPC and paid social services for businesses that want to improve their digital marketing results. 
Can you rank my Hammersmith website on Google?
Yes, we can. In fact, our SEO experts and website designers use all their combined knowledge and expertise to get your business up Google's rankings. We can also help to boost your visibility across the other leading search engines – which can be extremely cost-effective and deliver impressive ROI – especially for those working in highly competitive sectors. 
Need to make an impact fast? SEO can take time to deliver results, so we also provide PPC and social media advertising services to supply an immediate boost in web traffic.
Why use MagnifyLab as your Hammersmith web designers?
There are many reasons why you should choose Magnify Lab as your Hammersmith web design agency. Here are just some of them: 
We deliver 100% unique web design

We ensure faultless functionality and responsiveness as standard

We will build your new website with search engine visibility and conversion optimisation in mind

We are experts in all the best website platforms – including WordPress, Magento, WooCommerce, Joomla and Drupal

We ensure that your website is optimised for SEO

We provide additional services such as support packages, web hosting, PPC, and paid social management

We have delivered impressive results for both B2C and B2B companies, start-ups, and established brands

We take the time to get under the skin of your organisation to deliver a website that will stand out from your competitors. 
In short, we'll give your Hammersmith business everything it needs to succeed online
How do I get started?
Sparkling some elusive magic in your digital marketing, contact MagnifyLab today. Our experienced Hammersmith web design agency is ready to elevate your brand and unlock the potential in your business.
Say Hello!
Contact Our
Hammersmith Web Designers
100% transparency, no excuses and no dodgy practices. Just serious digital results.
Get your free website design Hammersmith proposal by contacting our specialist team today.