Your Local

Website Design Highgate

Company.

Our Highgate web design agency crafts stunning responsive websites for B2B & B2C brands. Enquire today for a free website consultation.

Get My Free Quote
Looking for The Best Highgate
Web Design company?
Exceptionally well-designed websites for Highgate businesses
The MagnifyLab web design team will help you succeed, whatever your digital needs. Whether you want a mobile-friendly website, a high-converting e-commerce site, or a new WordPress website for your Highgate business, we have the skills and expertise. Creating 100% bespoke websites that are tailored to your exact requirements, when you appoint us, we'll exceed your expectations.
Using the world's most popular website building platforms – including WordPress, Magento, WooCommerce, Joomla and Drupal – we construct all our sites to the highest and latest standards of functionality and accessibility.
Moreover, because our digital world keeps evolving, we don't just ensure that your website works perfectly today; we also make it easy to update as and when needed. Consequently, your MagnifyLab site will keep delivering for your Highgate business for years to come.
Obsessive about excellent website design and hooked on building websites that our Highgate clients are 100% happy with, our high-performing websites are sure to get your business noticed for all the right reasons. So, if you are looking for a Highgate web design agency full of passion, creativity, and business acumen, give us a call today. We'd love to hear from you.
Website Design Services Highgate
When you appoint us to design and build your Highgate website, we ensure a great return on investment. We can help you with:  
Responsive/Mobile-friendly Websites 

WordPress Websites

E-commerce Websites

High-Converting Websites

SEO Campaigns 

PPC & Paid Social Campaigns 

Website Hosting

Website Maintenance & Support

And More!
Contact Us
Professional Services
Website Design Highgate
- Featured Work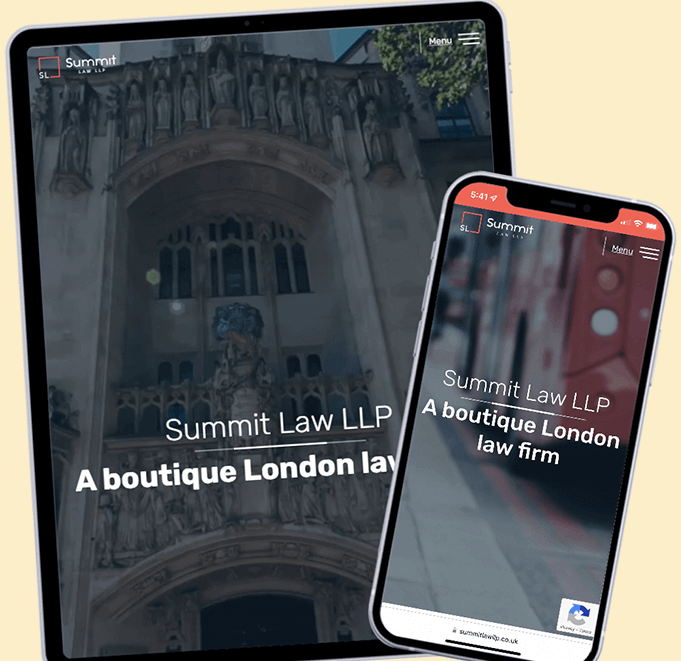 Summit Law
Website Design
A commercial law firm based in the heart of legal London.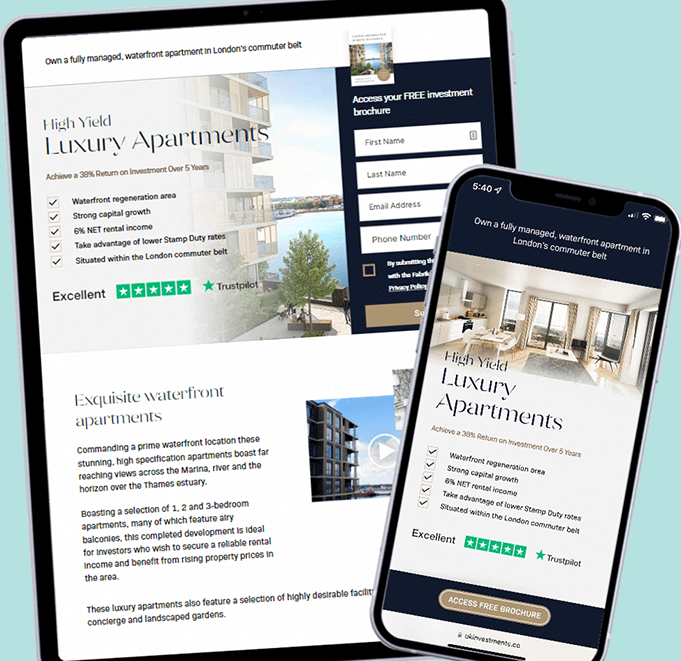 Fabrik Property Group
Landing Pages
Bespoke property landing pages with CRM integration.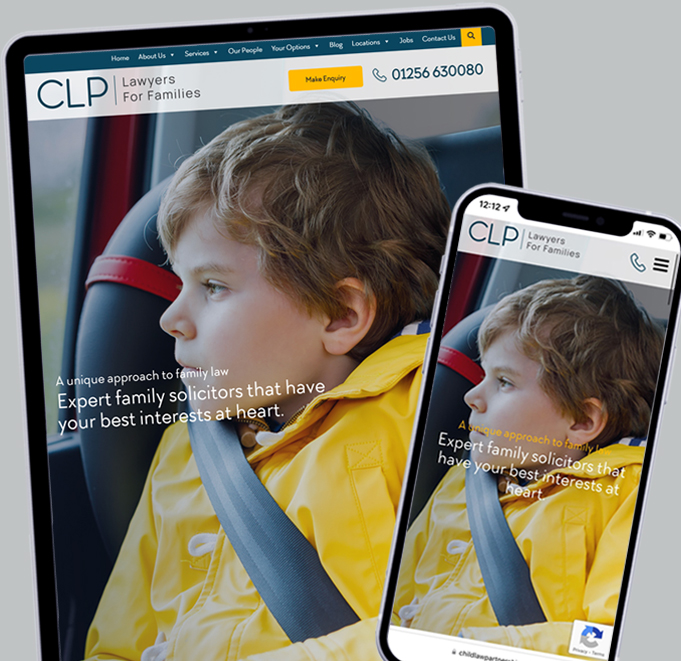 Child Law Partnership
Website Design
A modern website for a regional family law firm.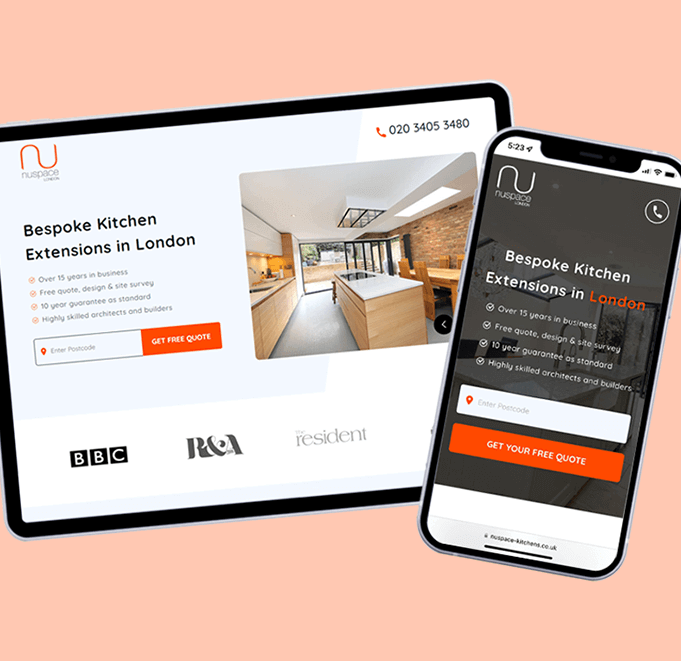 Nuspace Construction
Landing Pages
Bespoke PPC landing pages with multi-step form functionality.
Need a
Highgate Web Design

Agency for your project?

Taking ambitious brands to the next level – whatever the sector – if you want to unlock the potential in your business and boost your growth, get in touch with our experienced Highgate web design company today.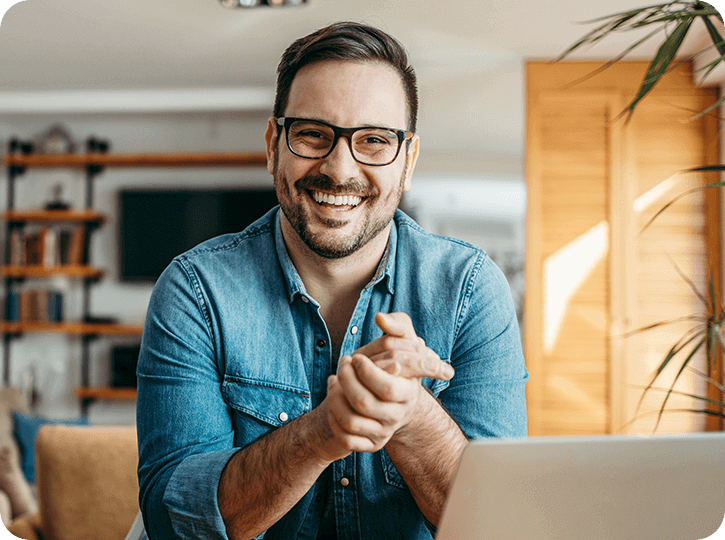 Established Agency
Our
Testimonials

We are delighted with the customer service and results from Google Campaigns run by MagnifyLab! They promptly respond to our requests and positively surprise us with ways of improving our campaign results. 6/5 stars!
Marta Krzemien
Marketing Manager, Steelo Ltd


Great company to work with and they have really helped us to grow our inbound enquiries. The guys at MagnifyLab have made themselves available on the phone even in the evenings and weeks which has been invaluable to us. Thanks MagnifyLab, highly recommended
Richard Yeo
Director, Thermofoam


MagnifyLab now manages all our PPC campaigns and much of our online presence. I have found them to be an outstanding company, dedicated to detail our revenues have significantly increased and our costs decreased.
Martin Benetar
Director, Charter A Group


We've enjoyed working with Ray and his team at Magnify Lab since day one. They have been brilliant with their knowledge and are extremely proactive which we love. Magnify Lab is definitely worth 5 stars for everything they have and are doing for us.
Sally
Adventures in Furniture

Website Design Highgate for Ambitious Brands
Introduction to
Highgate
Based in North London, Highgate is known for being a picturesque place to live, and home to many celebrities. So it's no wonder Highgate is one of London's most beloved villages. Surrounded by green space, including Hampstead Heath, Highgate Wood, and Waterlow Park, Highgate might feel like a rural retreat, but it has excellent transport links to London. So, if you are looking for an affluent, pretty, green, and accessible location, Highgate is a fabulous locale to live and do business. 
Highgate has robust house prices, with an average selling price of £1,314,959 over the last year (Rightmove, 2022). And with many historic buildings – including large mansions, terraced properties and flats, Highgate has something to match both family and single lifestyles. Highgate also has some excellent schools (both state and private), many of which have been judged 'outstanding' or 'good' by government watchdog Ofsted. And, as Highgate is the meeting point for Camden, Haringey and Islington, parents have a good range of choices. 
Five miles from Central London, Highgate is served by Highgate station to the north and Archway station to the south. Highgate is in Zone 3 and on the Northern Line, so travel to the Capital is easy. For example, getting to Leicester Square takes just 17 minutes. There is also an excellent range of buses. 
There's also plenty to do in this attractive and exclusive village. Soaking up 18th-century architecture and enjoying the green spaces is a must. And, if you get peckish, there are some pretty tearooms and quality gastro pubs to enjoy. Highgate Cemetery has a unique gothic feel with some spectacular tombs and gravestones. At the same time, Highgate Fair in the Square offers all the charm of a "village fair in the heart of London" every June on a Saturday afternoon. Expect brass bands and dog shows to keep all the family entertained! Highgate Bookshop also has a great selection of fiction and non-fiction to enjoy. While a vibrant arts centre hosting concerts, exhibitions and community classes makes Highgate the perfect spot for culture-lovers. 
If your business is based in Highgate, you've come to the right place if you need an attractive, high-performing, and responsive website. Providing everything you need to thrive online, give us a call to find out how we can help you. As the preferred Highgate web design agency for many local businesses, we'd love to have a chat. 
What else does your business need to know about working with our Highgate web design company? Read on to find out. 
Costs for web design in Highgate
Highgate might be an affluent part of the UK, but that doesn't mean businesses should pay over the odds when it comes to web design. Today, budgets must work harder and more intelligently, so every penny counts. As such, our Highgate marketing agency ensures that when you invest in a new or improved website, it will deliver for years to come. 
Our Highgate web design agency might not be the cheapest in London, but offering exceptional value for money, we create beautifully designed, fully responsive, and 100% bespoke websites. And we don't think you will get a better or more original website for the price. 
What we won't do is charge you a fortune for an off-the-rack, templated site. We won't build you a site that looks like everyone else's. We won't leave you with a website that doesn't perform and breaks regularly. And we won't give you a site you will need to replace in a couple of years. 
If that sounds like value for money (and it is!), contact our Highgate web design agency today to find out more. Prices start from £2,500 (and rise for more significant or complex sites). Our costs are fair and transparent, and we always ensure our clients know what they are getting for the price.
How long does it take to build a website? 
There is no simple answer to this question. The time our Highgate web designers and developers will take will depend on several variables. This includes:
how big your site needs to be (how many pages)

what platform you want your website built on

what functionality your business needs

whether you want to improve your current website or a build a new one

and more. 
Our Highgate web designers take the time necessary to do things properly, so from brief to completion, we will likely need more than a couple of weeks. As a rough estimate, most of our smaller web projects take around 4-6 weeks. However, we can spend 3-4 months building more extensive or complex sites.
We know that waiting can be frustrating, but we believe in doing things right. The last thing you want is to finish quickly but then have to spend months fixing problems with a site that doesn't work. Moreover, because all our Highgate websites are entirely bespoke, we take a bit longer to deliver than we would if we used a budget template (in our experience, these also cause problems down the line!). 
What type of Highgate companies can you help? 
A creative, sometimes bohemian village, Highgate is a unique place to live and work. Highgate offers a wide range of economic activities and has an entrepreneurial and innovative spirit with many small businesses. Indeed, various small businesses are centred around Highgate's high streets, and hospitality is a key sector in the area.
Our passionate team of Highgate web designers have experience across a vast range of B2B and B2C sectors, and we are ideally placed to help businesses of all sizes. This includes start-ups, SMEs, and larger companies.
Whether you work in property, hospitality, legal services, digital technologies, film and media, retail and e-commerce, tourism, education, public relations, or something entirely different, we have the skills to help your business succeed. Find out about some of the industries our bespoke Highgate web design agency has supported here.
Do you redesign existing websites?
Yes, we do. And if your website needs improving – be that via a new design, better copy, or advanced customer conversion points – our Highgate web designers can help. We can also take your current website and make it mobile-friendly, or move your site to a better platform (e.g., WordPress) so you have more control over it. 
However, in our experience, a "small" refresh can sometimes be more laborious than creating something new. So, while you might think that redesigning an existing website is cheaper than starting from scratch, that might not be the case. Once we have looked at your current site, we'll let you know your options so you can make the best decision for your business. Our Highgate web design agency is passionate about transparency, so we will always be upfront about your choices and let you know the potential costs for each approach.
Will my new Highgate website design work on mobile and tablets? 
Yes. As discussed above, to be successful, your website must adhere to the latest responsive design standards. So, for any business that cares about its online presence, delivering a consistently high-quality experience across devices, resolutions, and browsers is a must. Appoint us as your Highgate website agency, and we will build you a responsive website that will work flawlessly and be intuitive to navigate for all your web visitors. That's our promise to you. 
Today, Google punishes websites that are not responsive by demoting them down the search results. So, if your current Highgate website design agency has not informed you about the need to be mobile-friendly, they are letting your business down. 
Can you convert my existing Highgate website into WordPress? 
Yes, at our Highgate web design agency, we are experienced in all the major web platforms. This includes WordPress, Magento, WooCommerce, Joomla and Drupal. WordPress tends to be our platform of choice for several different reasons. For example:
With WordPress, we can develop beautifully original sites 

With WordPress, we can develop and add all the functionality our customers need

WordPress is very easy to update and use (indeed, it is so user-friendly that many of our Highgate clients don't need us to make the majority of their site day-to-day site updates). 
Contact us to discuss moving your existing site to WordPress (or another platform if you prefer). Once we've mapped out the work required, we'll provide a full timeframe and budget.
Do you offer a payment schedule for Highgate websites? 
Yes, we do. We ask all our Highgate customers to pay a 50% deposit to secure the project, and we don't take the remaining 50% until everything is signed off and your new website is about to launch. 
Do you provide website maintenance and support? 
Yes, we do. Because it can be tricky to keep a website fresh and performing well (especially as web standards are constantly evolving), our Highgate web design agency provides rolling website maintenance and support services to many customers. 
What this involves varies depending on our client's needs, but it can cover plugin updates, backups, site edits, security checks and more. Keeping your Highgate website working and making sure it is future-proofed, we are proud of the solid and lasting relationships we have developed with many of our clients. 
Can you rank my Highgate website on Google?
Yes, at our Highgate website agency, we have lots of ways to improve your site's Search Engine Optimisation (SEO) performance. This includes on-page SEO, off-page SEO and technical SEO. So, when you appoint us, you'll benefit from our vast expertise and experience. 
Helping you climb Google's rankings, we start by building SEO-friendly websites. And, when you appoint us as your Highgate web designers, this is part of our service to you, so optimising your website for SEO comes at no additional cost. We believe this is one of the most critical things any good web design team should do. 
In addition, we also offer a range of supplementary SEO support and services that will help establish a local and national presence for your brand. Implementing strategies that will work today and keep working tomorrow, from SEO policy to content creation, on-page optimisation, intelligent link building, and more, our Highgate SEO experts will help you ascend those vital search results. 
Why use MagnifyLab as your Highgate web designers?
What else do you need to know before you appoint us? Well, if you want a cheap and fast Highgate web design agency, we're probably not the right fit for you. This is because we refuse to make budget, low-performing websites that will ultimately let our clients down. But, if you want an expert web design team that will meet your requirements, give your business everything it needs to succeed online, and offer unbeatable value for money, we could be your perfect match.
By delivering those essential elements that your website demands, as well as some you might not have imagined, we'll give you all the creativity, passion, and business insight needed to take your website to the next level. And, with a full range of digital services, including website design and development, SEO, website hosting, PPC and social advertising, you don't need to look anywhere else.
How do I get started?
Taking ambitious brands to the next level, if you want to unlock the potential in your business, get in touch with our experienced Highgate web design team today. We can't wait to help you.
Say Hello!
Contact Our
Highgate Web Designers
100% transparency, no excuses and no dodgy practices. Just serious digital results.
Get your free website design Highgate proposal by contacting our specialist team today.